Benefits for Children with Autism
Waratah Puppies provides valuable information to families purchasing a puppy for a child with special needs.  Our puppies have made a difference in the lives of many children facing a range of health challenges including Autism, Asperger's Sydnrome, ADHD, Developmental delays, Tourette's Sydndrome, Cerebral Palsy, Cystic Fibrosis (having had 40 operations before age of 10), Anxiety and Depression.
Waratah Puppies is proudly Australia's No. 1 breeder of quality Cavoodle, and 'oodle, puppies primarily for children on the Autism Spectrum and people living with anxiety, depression or PTSD.
All our puppies have basic obedience training (come, sit, walk on lose lead) before joining their new forever family.
We can also provide basic and advanced introduction to Assistance Dog training which will begin the puppy's training towards being recognised as an Assistance Dog under the Disability Discrimination Act 1992.    We are happy to liaise with training organisations or trainers who will continue your puppy's training after they join your family.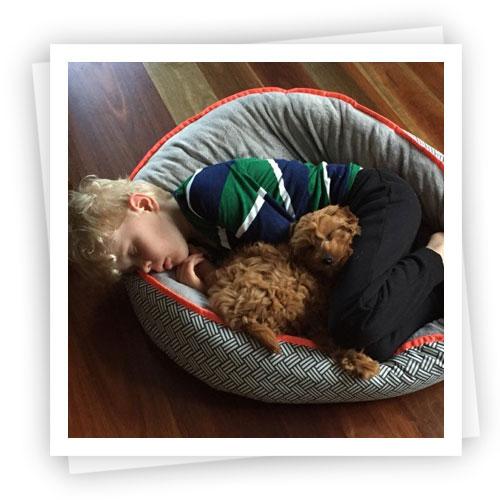 Our business was established to bring the joys and benefits of a Cavoodle or Shoodle puppy to the lives of children on the Autism Spectrum or with other special needs.    We have first-hand experience with the benefits a puppy can bring to the life of a child on the Spectrum.
Research has shown a puppy can help:
reduce sensory congestion
provide safe connection
build confidence
encourage caring for others
provide comfort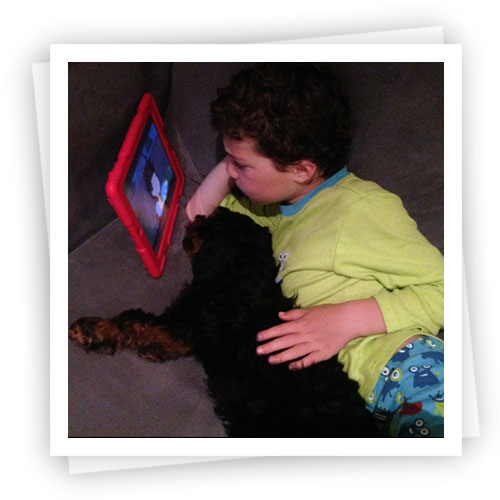 A well-behaved puppy with a calm, relaxed temperament can provide a calming influence to a child on the Spectrum. 
A puppy's unconditional love can provide a child on the Autism Spectrum with positive and enjoyable connection.  Building on this connection, they can learn the skills needed to understand human interactions.   
Experiencing a positive relationship with a puppy can provide lots of opportunities to discuss 'feelings' which can help children better understand emotional issues.
Testimonial: 
31.1.19      Hi Kaylene, I have had a look at your website and we are very interested in getting a Cavoodle puppy.  I have 2 children, one of whom is very anxious and not confident with dogs at all.  We have been recommended the Cavoodle breed.  We have been talking to our son about getting a puppy and he likes the idea but is VERY scared of us getting an over excited dog.  Are there more placid dogs than others?  Can you tell this when they are puppies?  We appreciate your help and guidance with this, Kind regards M
I communicated with M by email and arranged for them to visit our property to meet some puppies – which would be done in a very calm, way giving the son as much distance from the puppies as he needed.  When they visited, I began by walking one of our older dogs around on a lead so the children could watch the dog from a little distance.  I then invited the daughter, Miss I, to walk the dog on a second lead with me.  We walked "Peachy" slowly around the property with the son, Master M, watching from the car.  After walking around the property a few times, Master M, asked if he could walk the dog holding the second lead too.  At first he was tentative, but gained in confidence as "Peachy" walked up and down the driveway with Master M and I holding a lead each.
Later we introduced the family to two cavoodle puppies in a play enclosure.  We talked about the behaviour we encourage and discourage in puppies while they played with toys.  Initially Master M was very anxious that the puppies might 'get away' if family members held them.  I assured him I could help keep the puppies from running away while his family had a cuddle.  We took one puppy out of the enclosure for cuddles.  Master M gained confidence as the puppies slept.  He enjoyed patting the puppies and started talking about which was his favourite.  The family left to make a decision on whether or not to purchase a puppy.   Apparently it was unanimous, with Master M voting strongly for a particular puppy so we were thrilled when they purchased one of our gorgeous cavoodle puppies and collected it the next day.  "Jasper" had a new family.
Later that night I received the following email ….
11.2.19  Hi Kaylene, Jasper is settling in very well and the kids just adore having him around.  Master M has been fantastic and trying very hard to stay calm when Jasper comes up to him.   Jasper slept through the night and had a little bark (only once) at 6am, obviously for the toilet.  There was no crying or whimpering through the night.  He has such a gorgeous personality, we are besotted.  Thanks again, Kind regards M 
15.2.19  Hi Kaylene, thank you for your lovely email.  Master M is getting better with Jasper day by day.  He has even allowed Jasper to sit on his lap on a pillow.  big steps.  It helps that Jasper is so calm and relaxed.  He is just divine and fitting in to our family so well.  Kind regards, M
-12How to purchase one of our gorgeous puppies:
COMPLETE our enquiry form to join our waiting list, letting us know your puppy preferences and to give us some information about yourself.
CHOOSE A PUPPY – when we send you an email with pictures and information about available puppies
PAY A DEPOSIT by direct deposit or Stripe – We'll provide an Invoice and payment details when you've chosen your puppy
BEGIN PREPARING YOUR HOME, and hearts, for the arrival of your puppy. Our information pack has tips on how to prepare for your puppy's arrival.
COMPLETE PAYMENT for your puppy at 8 weeks of age when it will be microchipped, vaccinated and health checked by a qualified vet. The puppy will begin our basic obedience training and be desexed at 10-12 weeks.
COLLECT or TRANSPORT can be arranged. (we can fly your puppy to most metro or regional airports for between $350-450. Payment must be made at least 48 hrs before flight is booked)
RECEIVE YOUR PUPPY and ENJOY the cuddles and love of your newest family member
As our waiting list is often larger than the number of puppies we breed, we prioritise placing our puppies with families with a child on the Autism Spectrum or with other special needs.
If you have a child who would benefit from having a puppy in their life, we invite you to contact us.   When you join our priority waiting list you will receive an email when puppies are available for selection.  We will be very happy to discuss your specific requirements and the benefits you hope a puppy will make in the life of your child and family.
Priority Waiting List
To be included in our priority list if you have children with Autism Spectrum or with other special needs click here
NDIS funding for companion and assistance dogs is determined on a case-by-case basis. If you have NDIS funding to purchase a puppy, please let us know so we can include relevant information on our Invoice.
Receive a free copy of our eBook – 5 WAYS A PUPPY CAN HELP A CHILD ON THE AUTISM SPECTRUM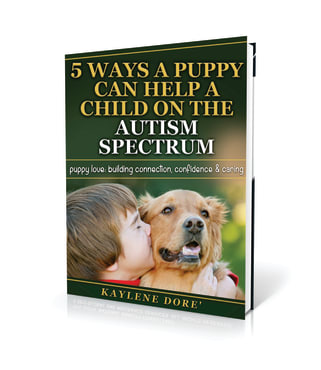 Our puppies are healthy, happy puppies with many advantages over other puppies you may see for sale.
We are a vet audited, registered breeder specialising in placing puppies with children with special needs.
Our puppies are:
lovingly care for and handled every day
vet checked thoroughly, at least twice before leaving us
vaccinated with C3 and C5 and come with a vaccination schedule
wormed every 2 weeks with Drontal Puppy Suspension and come with worming schedule and recommended grooming schedule
microchipped (transfer of ownership instructions provided with the puppy)
desexed and receive post op care and usually stitches are removed before leaving us
doing well with toilet training – to artificial turf
able to sleep on their own (soft toy companion) in their own travel crate
used to wearing a collar
ready for lead training (we sometimes begin lead training)
To see our available puppies, visit our PUPPIES FOR SALE page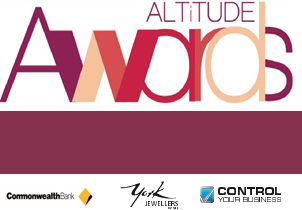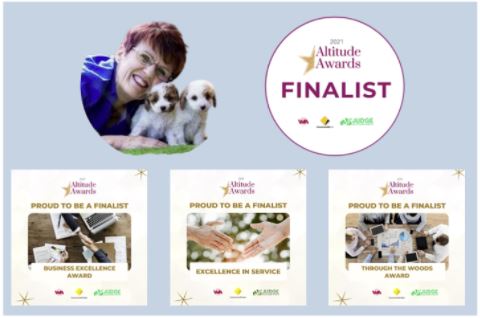 In 2015 Kaylene, and Waratah Park Puppies (now Waratah Puppies)  won the Climb Every Mountain Award (best business trading up to 5 years) in the 2015-2016 Altitude Awards.
In 2021 Waratah Puppies was announced a finalist in the following 3 Categories of the Altitude Business Awards:
* Through the Woods (best business trading up to 10 years)
* Business Excellence
and 
* Excellence in Service
In 2020 Kaylene and Waratah Puppies were a finalist in the Best in Service Award of the Altitude Business Awards.
In 2019, Kaylene and Waratah Puppies were a finalist in the Through the Woods Category (best business trading up to 10 years) in the Altitude Awards 

as well as 

a finalist in the Altitude Awards' Business Excellence Category.
We are located in Gunning, south NSW.
Puppies can be collected from our Gunning property by appointment or flown to major airports across Australia for between $450 - $800. We use Dogtainers and JetPets for travel within Australia.
We can provide a quote for international travel (New Zealand, Singapore, Hong Kong, Hawaii).  We proudly use Petraveller for all our international travel.
Because our puppies are crate trained, they usually sleep during the flight and arrive ready to play and cuddle with their new forever family.