Frequently Asked Questions
SIZE – What is the difference between a "Toy" and a "Miniature" Cavoodle?  As there is no breed "standard" for Cavoodles, different breeders might call the same cavoodle a 'toy' or a 'miniature'.  Briefly we call an adult cavoodle weighing 6kg or less a 'toy' cavoodle and an adult cavoodle weighing between 6.1kg and 10kg a 'miniature' cavoodle.

To download our easy to read size chart for cavoodles, click HERE – or email kaylene@waratahpuppies.com.au and request a copy.

Vaccinations – What vaccinations do puppies need?  In most Australian States and Territories it is illegal to sell a puppy which has not been microchipped and had it's first C3 vaccination.  The "C" stands for Canine and the "3" is for the number of diseases the vaccination protects against.  These are Parvovirus, Distemper and Hepatitis.  This is the minimum vaccination for puppies/dogs.  Most puppies receive their C3 vaccination at around 6 weeks of age. At approximately 10 weeks and 14 weeks of age, the puppy will need follow-up vaccinations.

Waratah Puppies receive a C3 vaccination at 6 weeks of age when they are microchipped and a C5 vaccination at approximately 10 weeks of age, when they are desexed.

C5 vaccinations provide protection against Parvovirus, Distemper, Hepatitis, Parainfluenza and Bordetella bronchiseptica (the bacterial component of kennel cough).

A third puppy vaccination of C5 should be given to the puppy at around 14-16 weeks of age and your Waratah Puppy will come with a vaccination schedule to remind you when this is due.

Vaccinations provide protection from terrible diseases and all dogs exposed to other dogs and people, should receive C5 protection annually.    A C5 is required by most boarding kennels.

Grooming – How often will my puppy/dog need to be groomed?
The coats of Cavoodles and Shoodles grow continuously with only a few hairs falling out from time to time rather than 'shedding' their coat.  Regular brushing is very good for removing dead hair and will reduce the number of knots in your dog's coat.  Brushing also helps build a bond with your dog. Your dog's coat should be clipped/cut regularly (eg every 6-7 weeks) depending on climate, your living arrangements and the environment in which you dog lives and plays.  (some grass seeds can work their way into your dog's skin if not brushed out)  Gently handling your puppy's feet/paws when cuddling your puppy can help them become used to having their paws handled which your groomer will thank you for when they come to groom their feet and clip your puppy's nails.
Worming – how often should a puppy/dog be wormed?
Unfortunately worms are a part of a puppy's life.  Puppies should be wormed for intestinal worms with a puppy suspension (liquid) at 2, 4, 6, 8, 10 and 12 weeks of age.  From 12 weeks of age a puppy should be wormed, with an all-wormer, every month until 6 months old then every 3 months – depending on the product you use – throughout their lifetime. Heartworm protection should be discussed with your vet.  Heartworm is contracted from mosquitos and is very different to intestinal worms. Waratah Puppies are given Drontal Puppy Suspension at 2, 4, 6, 8, 10 and 12 weeks of age then for intestinal worms then Milbemax tablets.  Milbemax treats heartworm as well as intestinal worms.  You will receive a schedule of our recommendation for ongoing worming treatment.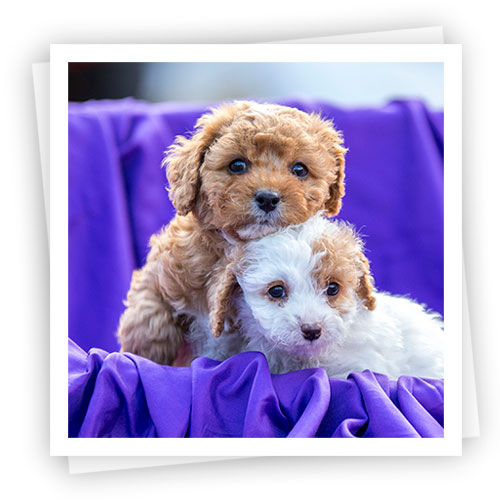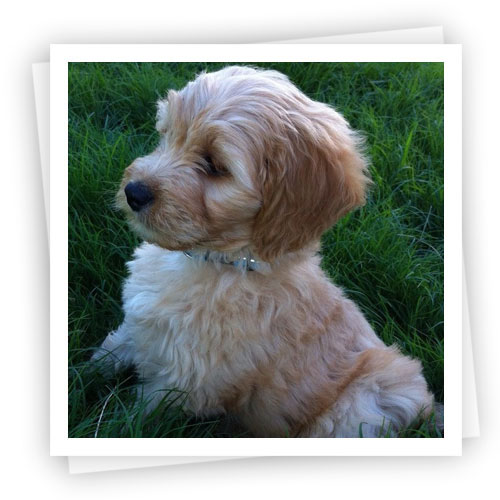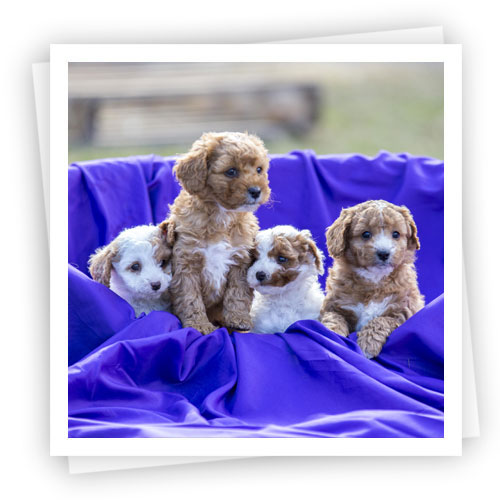 Our puppies are healthy, happy puppies with many advantages over other puppies you may see for sale.
We are a vet audited, registered breeder specialising in placing puppies with children with special needs.
Our puppies are:
lovingly care for and handled every day
vet checked thoroughly, at least twice before leaving us
vaccinated with C3 and C5 and come with a vaccination schedule
wormed every 2 weeks with Drontal Puppy Suspension and come with worming schedule and recommended grooming schedule
microchipped (transfer of ownership instructions provided with the puppy)
desexed and receive post op care and usually stitches are removed before leaving us
doing well with toilet training – to artificial turf
able to sleep on their own (soft toy companion) in their own travel crate
used to wearing a collar
ready for lead training (we sometimes begin lead training)
To see our available puppies, visit our PUPPIES FOR SALE page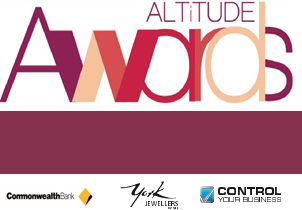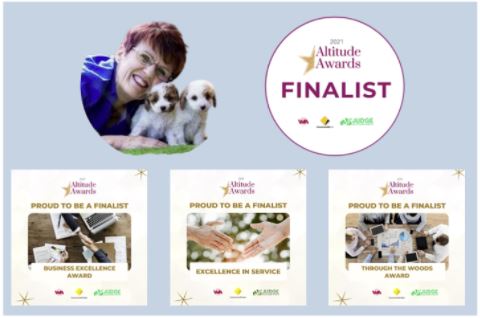 In 2015 Kaylene, and Waratah Park Puppies (now Waratah Puppies)  won the Climb Every Mountain Award (best business trading up to 5 years) in the 2015-2016 Altitude Awards.
In 2021 Waratah Puppies was announced a finalist in the following 3 Categories of the Altitude Business Awards:
* Through the Woods (best business trading up to 10 years)
* Business Excellence
and 
* Excellence in Service
In 2020 Kaylene and Waratah Puppies were a finalist in the Best in Service Award of the Altitude Business Awards.
In 2019, Kaylene and Waratah Puppies were a finalist in the Through the Woods Category (best business trading up to 10 years) in the Altitude Awards 

as well as 

a finalist in the Altitude Awards' Business Excellence Category.
We are located in Gunning, south NSW.
Puppies can be collected from our Gunning property by appointment or flown to major airports across Australia for between $450 - $800. We use Dogtainers and JetPets for travel within Australia.
We can provide a quote for international travel (New Zealand, Singapore, Hong Kong, Hawaii).  We proudly use Petraveller for all our international travel.
Because our puppies are crate trained, they usually sleep during the flight and arrive ready to play and cuddle with their new forever family.